Offers what your delivery service needs
ParcelSign is an iOS app for organizing your own delivery service. Schedule the shipments one day individually for each deliverer, track the delivery on the live map and keep your customers up to date with the help of the tracking page.
From scheduling a shipment to complete delivery, ParcelSign allows you to manage your entire supply chain from a single source.
Scheduling

Delivering

Signing

Completing
Digital proof of delivery
Capture signature
With ParcelSign, electronically capturing your customers' signatures is child's play. No more pointless printing, time-consuming scanning and crumpled forms.
Capture storage location
If a deliverer does not find one of your customers, ParcelSign can be used to take a photo of the location (including geocoordinates) and use it as proof of delivery.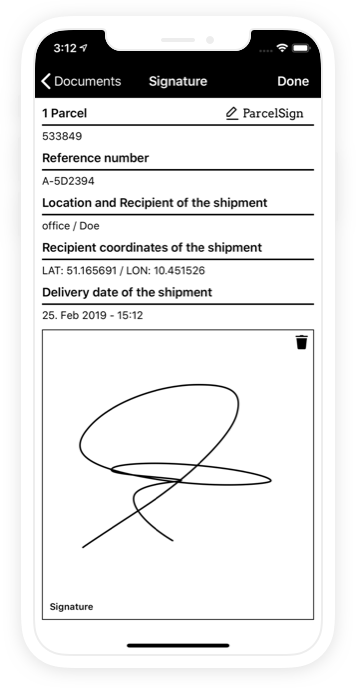 Planning + Delivery
ParcelSign has a simple and clear administration interface that allows you to immediately start your own delivery service. Create a carrier, assign one or more shipments and you're ready to go.
ParcelSign can of course also be used with your existing ERP solution via an API.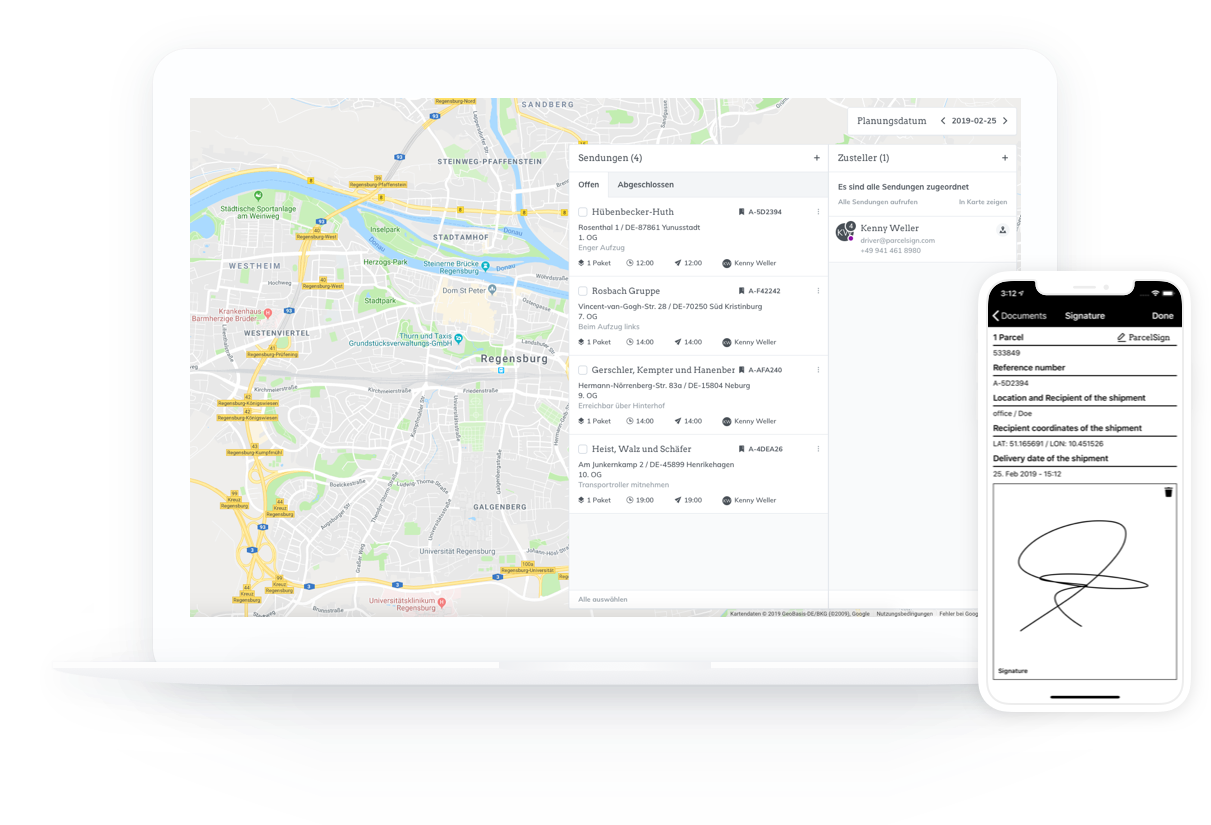 Live location

Thanks to the integrated live location of your delivery staff, you can schedule shipments efficiently or reroute them at short notice.

Create delivery tour

Keep full control and plan the delivery routes of your delivery staff in advance with just a few clicks.

Everything at a glance

Even with a large number of delivery staff, the clear planning cockpit gives you a clear overview.
One platform for your deliveries
Tracking + Tracing
ParcelSign offers you an individually configurable tracking website, with which you can keep your customers informed about the current progress of a shipment.
Fully configurable
You can freely adapt the names of the data fields in ParcelSign. In addition, you can use additional free fields to have additional data such as batch numbers, comments, etc. filled in by your carrier on delivery.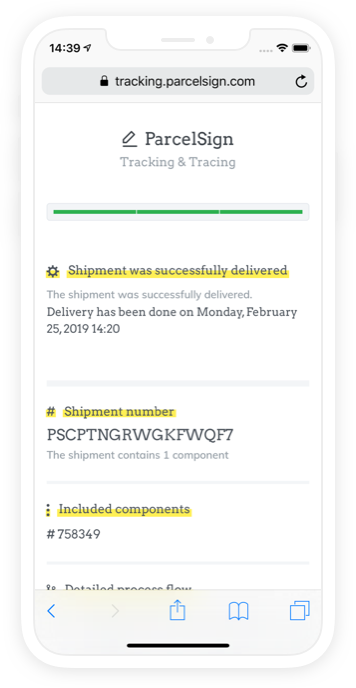 ParcelSign also offers this
Scanning of barcodes

Capture package and shipment numbers with support for the most common barcode types.

Own documents

View PDF documents, have them signed by the customer, print them out or forward them by e-mail.

Additional information

Store the transfer location, the recipient name, a reference number, and a comment.

Simple planning

Schedule shipments individually for one day and one carrier.

Geocoordinates

Recording and documentation of the geo-coordinates of the place of delivery.

Adhoc shipments

Create new and instant deliveries directly in the app.

Free fields

Central administration and display of individual free fields.

Easy tracking

Provide the customer with a tracking link with the shipment status.

and way more

ParcelSign can surely support you as well. Just call out and ask us.